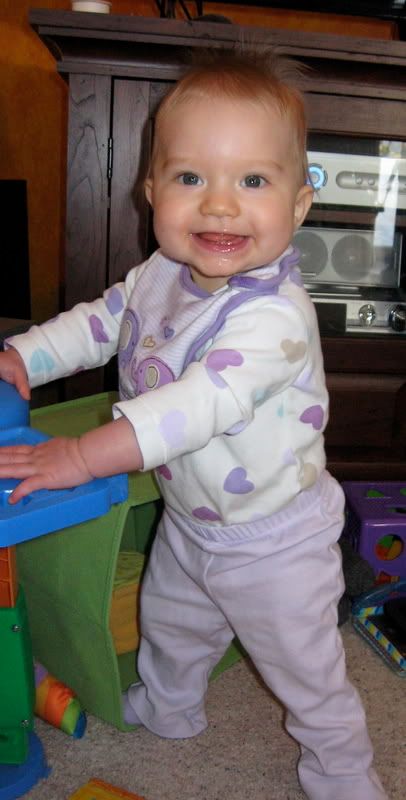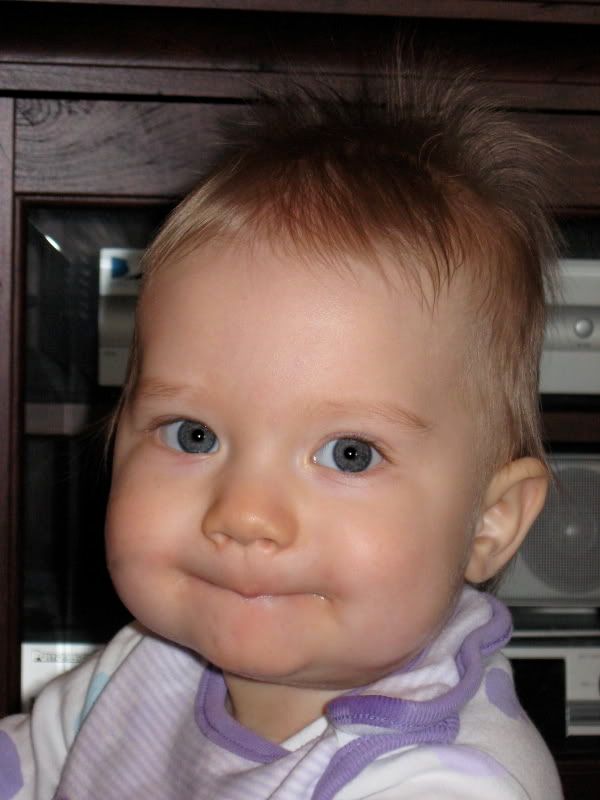 At her nine month checkup she weighed 16 lb 13 oz and was about 28" long. She's got her two bottom teeth and crawls like a fiend. She says Mama and Dada, eats an incredible amount of food, has hair that sticks straight up in the back and loves to take baths. She sleeps about 12 hours most nights and takes 2 naps during the day. She'll be 10 months old this Friday!
2 pictures!
Current Mood:

tired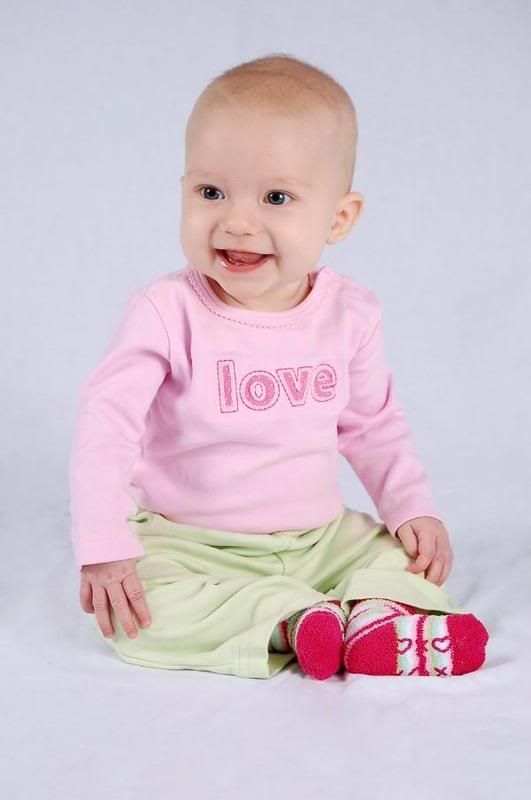 My little baby Nora is 6 months old today! I can't believe it's been 6 months already. She's doing really well.
She's made the transition to napping and sleeping in her own room in her crib. She's only waking up about once a night to eat, and then she wakes up at 5 or 6 in the morning.
She eats a lot of different foods and likes almost everything,especially if you mix it with sweet potatos :) She even likes squash!
She knows her name, sits and plays with her toys, can put her binky in her mouth all by herself, and loves to stare at herself in mirrors. She doesn't crawl yet, but she's working on it.
So yay! Happy 1/2 birthday to my little girl!
Back from the doctor's office - weighing in at 14 lbs 1 oz and 26 3/8" long.
Current Mood:

happy

Nora's getting new pictures done today including some in her Halloween costume. And then, depending on if Chase gets up in time we might go to the pumpkin patch and get pumpkins! Should be a fun birthday.
It's my birthday! Thank you to everyone who has wished me well. Chase and I went to dinner last night to celebrate.
Current Mood:

cheerful
I'm so tired of my kitchen being messy, but I have no motivation to clean it. I also want to bake some things, but don't want to clean up the mess afterwards. Who wants to come clean my house and bake things for me?
Current Mood:

blah
Current Mood:

amused